Four standardized plan types
The plan forms of the kofun included in the property are categorized into four types: They are the standardized kofun shapes, which served as models for local kofun constructed across the archipelago. In other words, the nominated property played the leading role in developing kofun design and construction technologies required to build them.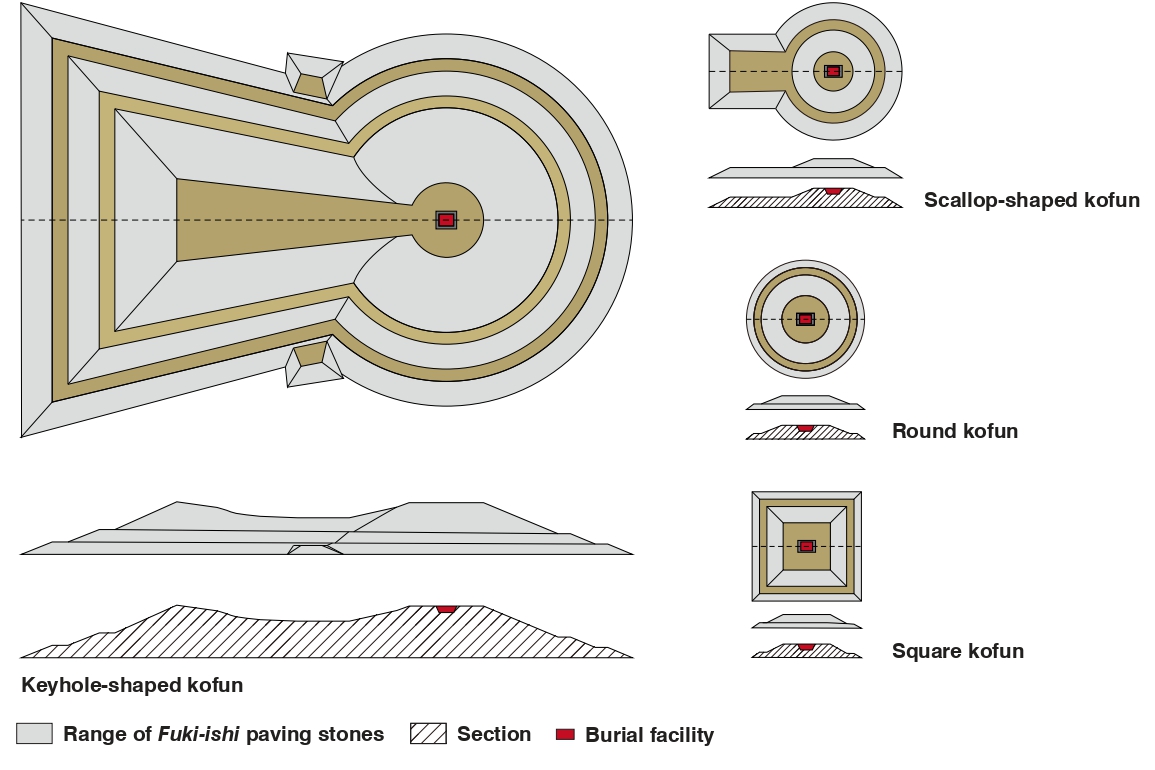 Kofun designs
It is considered that elaborate, geometric shapes of the mound required an advanced, three-dimensional design concept. Complex and symmetrical earthen structures were deigned, combining various circular, triangular and square shapes, as well as flat and inclined surfaces.
Nintoku-tenno-ryo Kofun and Ojin-tenno-ryo Kofun are particularly gigantic, having required an extraordinary scale of civil engineering work; the former's mound is 486 m long, 35 m high and has a volume of 1.4 million m3, while the latter is 425 m long, 36 m high and has a volume of 1.43 million m3. It is believed that careful designs and precise measurements, construction technology based on a certain civil engineering, as well as comprehensive construction management capability and high policy-making capacity to appropriately acquire and maintain the intensive labor force, were needed for the construction of such three-dimensional structures of an enormous scale without collapsing.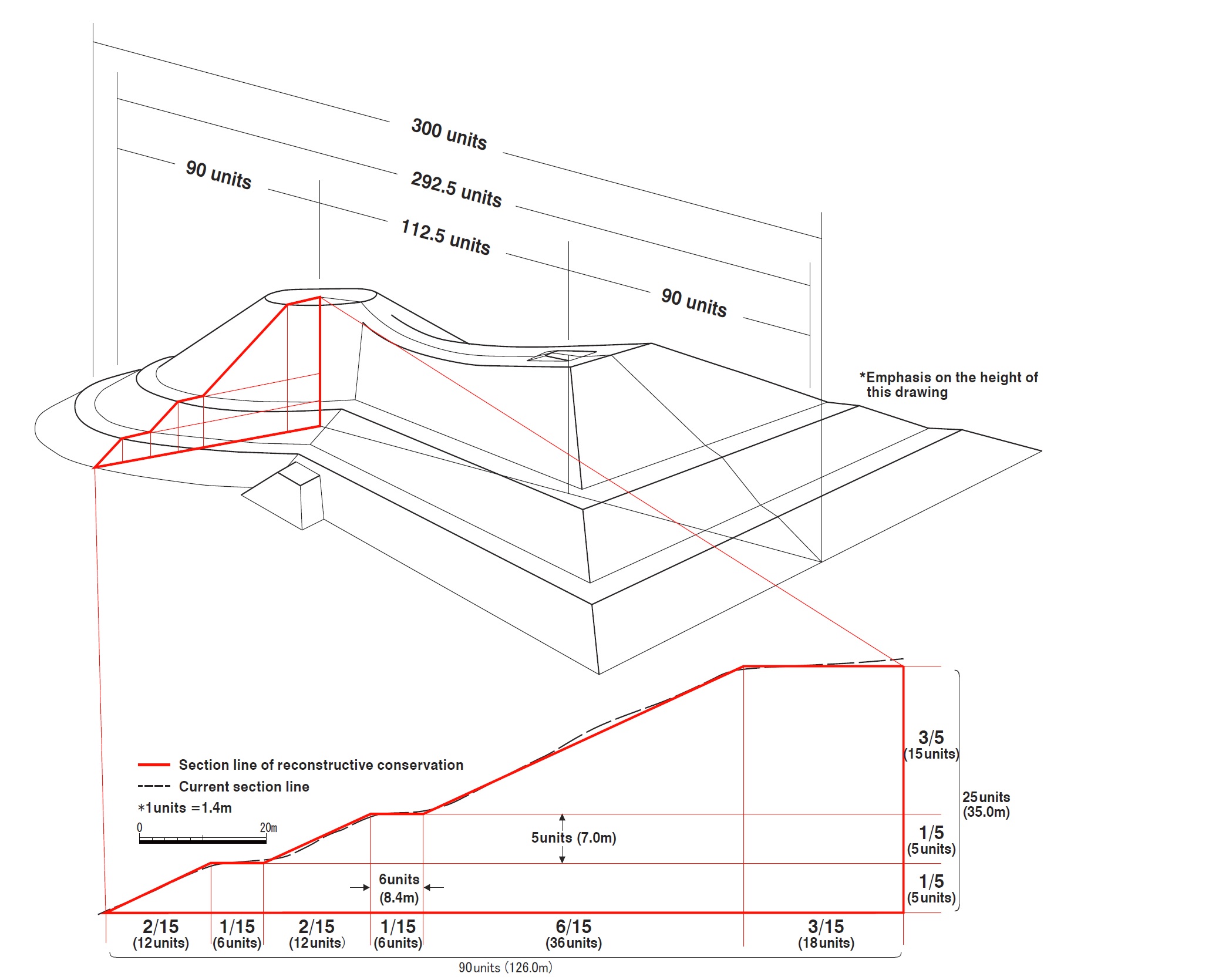 Construction technologies
An individual kofun's mound was built up and formed from the earth obtained from the construction of the moat and from digging in the surrounding area. A prototype of mound slope rising at a radiant of around 25 degrees and of the mound in a two- or three-tiered structure using terraces appeared. The result of the excavations of the mounds show that there are also some kofun that have soil layers, which were raised up with regularity on the basis of small units while using materials with different qualities, such as soil, clay and gravel.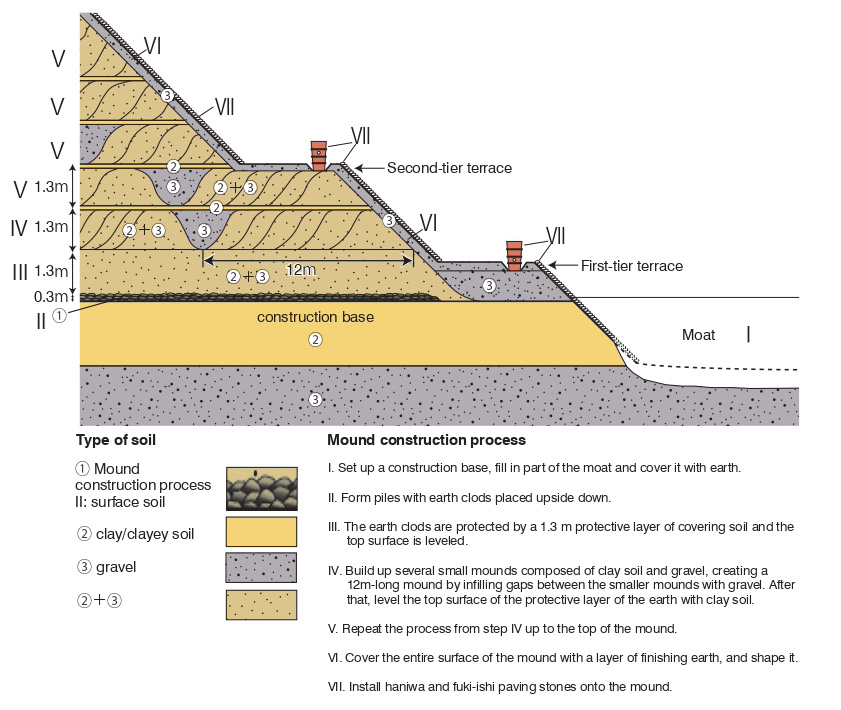 The mound's slope was covered with pebbles, from the size of a human head to the size of a fist, called fukiishi, which are believed to have been meaningful in terms of decorating the mound and preventing the mounded earth from collapsing.
Haniwa were arranged in rows, around the same time as laying out of the paving stones on the top of the mound, on the terraces and on the bank. Haniwa are clay figures, which were produced to decorate the mound surface, are broadly classified into two types, the cylindrical type and the representational type with shapes of various things and animals (see Appendix 3.a Supplementary archaeological information related to kofun "IV. Haniwa"). An overwhelming majority is of the former, and a vast number of them were produced for construction of each kofun. In particular, it is estimated that more than 20,000 cylindrical haniwa of 90 cm high and 40 cm in diameter were baked for the Nintoku-tenno-ryo Kofun and Ojin-tenno-ryo Kofun respectively to ornament the mound top to make them glorious